iRidium Driver for AV & Custom Systems is the best solution for AV installations.
iRidium Driver for AV & Custom Systems enables:
control of any equipment via TCP, UDP, HTTP, RS232, IR with full two-way communication;
fast set up of equipment thanks to the base of IR codes;
integration of ready JS modules into projects, e.g., modules for Media Servers: Sonos, XBMC, iTunes, module for SIP-Intercom, Weather module, etc;
creating your own drivers to control the necessary type of equipment in iRidium Driver Development Kit.
iRidium for AV & Custom Systems can be used together with any special automation solutions by iRidium.
For example, iRidium for KNX, Crestron, Clipsal, MyHome or HDL BusPro.
Special automation solutions
are iRidium drivers, created to control equipment of popular automation systems.
Any Combination is Possible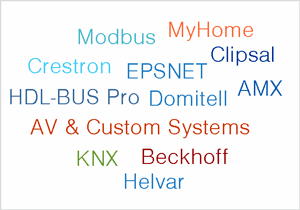 Two or More Solutions in One Project:
With iRidium you can combine several automation systems in one project, e.g. Crestron + KNX + AV or Modbus + AV.
Any combination of automation systems is possible.
Control capability of a certain type of equipment is determined by the license only.